How to Murder Excuses, Become a Time Ninja, and Make Fitness Fit Your Life
Excusitis (n.) 
A tendency to dodge personal responsibility in important matters such as health and fitness due to a "lack of time," "bad genes," or "the dog ate my workout plan."Sufferers of excusitis have no control over their lives, because they make excuses for their faults instead of actually trying to fix them (because that would take too much effort).

As a consequence, the afflicted lead lives of constant mediocrity.
I get it…
You work a billion hours a week.
You have kids that are always needing things.
You go to college, have to do all these silly essays, and your professor never seems to appreciate your masterpiece (asshole!).
OMG it never seems like there's enough time in a day!
A Healthy Dose of Tough Love:
No matter how busy you may be, you have to make time for yourself.
Your personal health and fitness is a priority, and its importance is non-negotiable.
Stop making excuses and start making solutions.
Have kids?
If you want them to be fit and healthy, you need to be fit and healthy.
Children become reflections of their parents, and there's no getting around it.
Be a positive example if you want them to have positive health habits when they grow up.
Busy student, mother, worker, all of the above?
When you're a fitter, healthier (and hotter) version of yourself, you can look forward to:
Improved focus (you'll get more shit done more quickly)
Confidence (you'll develop a friendly swagger that attracts success, and also hot dudes).
You will become more effective in every role you play in the adventure that is life.
The Best Part?
Fitness doesn't have to be boring, time-consuming, or stressful.
It can actually be uber convenient.
I'll show you how to murder excuses, become a time ninja, and make fitness fit your life.
You don't have the time? Bullshit.
The phrase, "I don't have the time," has mysterious Voodoo powers that alleviate the guilt you should feel when you neglect priorities in your life.
If you "don't have the time" to work out, you won't feel guilty about losing your breath on the stairs.
If you "don't have the time" to eat healthy, you won't feel guilty for eating garbage unfit for human consumption.
If you "don't have the time" to pursue your passions, you'll put them off until "someday" (you should eliminate this word from your vocabulary).
==========================================================================
There are 168 hours in a week
Let that settle for a moment. I'll wait.
168 hours.
Multiply by 60.
That's 10,008 minutes!
Shocked? You should be.
That's A LOT of time. Where could it possibly go?
I can wager a guess – time bandits are stealing all your hours!
And they're stealing them in chunks so small that you don't even notice.
Sneaky bastards!
==========================================================================
How to Fix It = Keep a Time Log!
Write down exactly how you spend your time every day for a week.
Even if you check Facebook for 5 minutes, it goes in.
Seem "little" of me? It's not.
Facebook could be the most vicious time bandit in your life. I'll illustrate.
If you check your Facebook…
5 times a day
6 minutes per log-in
7 days per week
You are wasting 3.5 hours per week.
Which is more than enough time to squeeze in a good workout plan (wow, that was easy!)
Does that sound like you? Congratulations, you just found the time to exercise!
Keep a time log for a week.
Record every single moment of every single day.
Reflect over the results and identify your biggest time bandits.
Look for activities that can be reduced (or eliminated).
Replace those activities with more beneficial things like training, learning a new skill or hobby, and being awesome.
Time is a mysterious, fleeting creature who flies through your life in the blink of an eye.
Track how you spend your day to make sure you're using Lady Time wisely.
==========================================================================
Small Change in Wording = Big Change in Mind-set
Laura Vanderkam at the Wall Street Journal suggests a powerful language change to teach you that time is a choice. You can do anything you want to with it.
Instead of saying, "I don't have the time," try saying "it's not a priority."
Let's see it in practice:
"I don't have the time to workout." = "My fitness isn't a priority."
"I don't have the time to prepare meals at home." = "My health isn't a priority."
"I don't have the time to do nice things for my partner." = "My relationship isn't a priority."
Big difference? Yup.
Get your priorities straight and crush it.
==========================================================================
I'm Not a Bully – I Know You're Busy
The above tough love is a pill you need to swallow; but despite that, I'm fully aware you're a busy person with lots of responsibilities.
You might be a mom, worker, student, maybe even all of the above.
Let's make your fitness plan as convenient as possible.
Before You Even Start a Meal Plan, Answer These Questions:
How much money can I afford to spend on this meal plan?
Will I have to buy any cookware, tools, other stuff?
Can I make this fit in with my work schedule and lifestyle?
Will my family or roommates support me?
Will I be able to sustain this plan long enough to reach my goal?
Choose a meal plan that fits your lifestyle—DON'T force a a meal plan on your lifestyle.
Give yourself a week to prepare before you jump into it (buying groceries, fitting it in your schedule, anything else you need to do).
Now let's look at some meal planning options for various life situations.
==========================================================================
If you have a lot of free time and enjoy cooking…
You might want to cook at home daily.
Example: Stay-at-home moms
Have to time to prepare new, exciting meals regularly? Do it!
Just make sure you include your spouse and kiddos in meal planning decisions!
==========================================================================
If you are very busy and like cooking…
You might want to have a weekly cook off.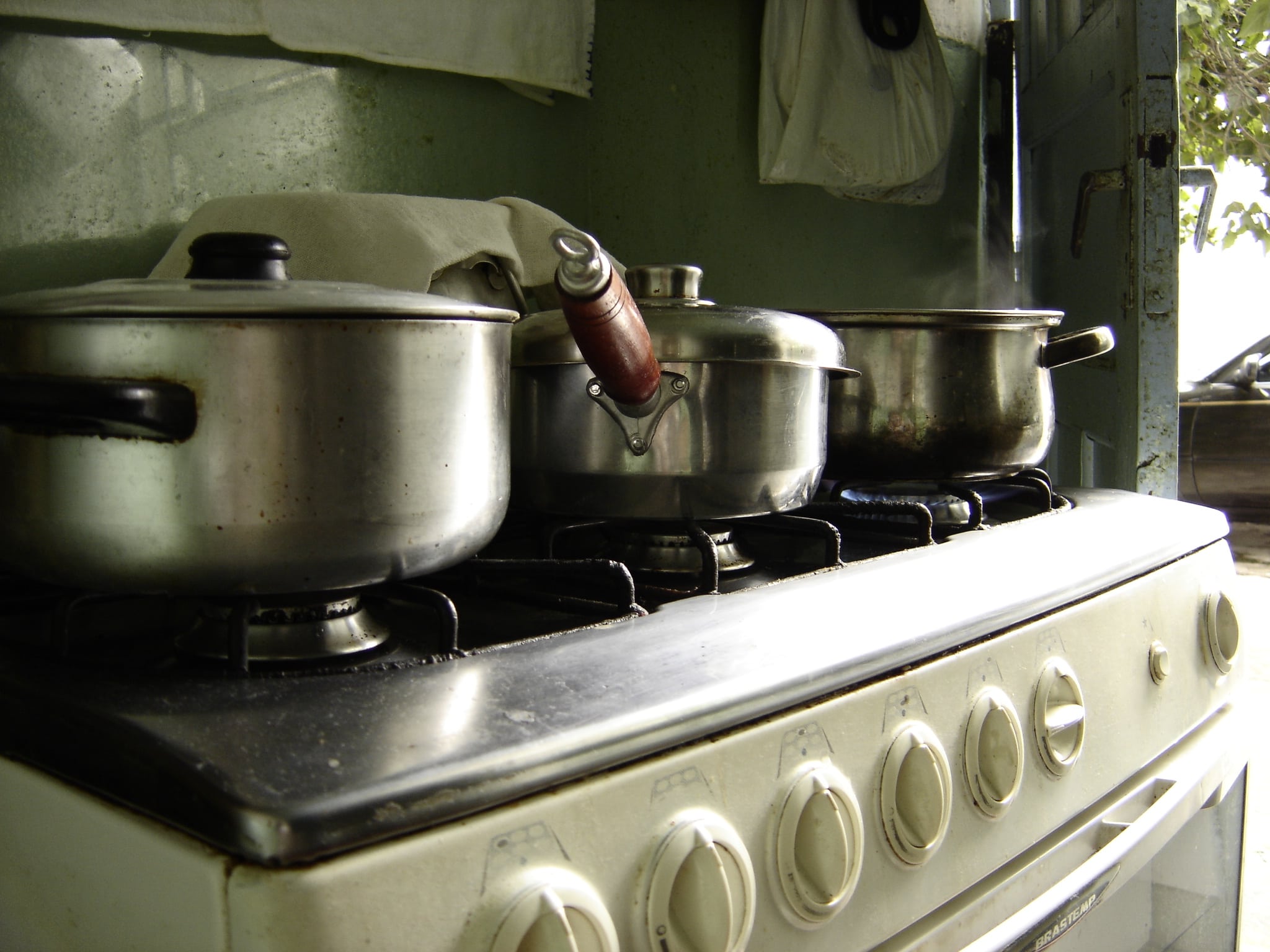 Example: Uber busy women with lots of responsibilities.
If you have to drop the kids off in the morning, then go to class, then go to work, then take the kids to a soccer game (what a juggler you are!), I'm talking to you.
Weekly Cook Off Instructions:
Invest in some Tupperware and whatever else you need to prepare meals
Pick the least busy day of the week (for me, Sunday)
Prepare 5-7 days worth of meals at one time
Store it in the fridge
All you have to do is zap it at meal time
==========================================================================
If you REALLY HATE cooking…
You have two options.
Option A) Eat out in real restaurants (places with menus and waiters)
Stick with meats (steak, chicken, lean beef—never breaded or fried) and green vegetables.
If you get a salad, dressing is fine, but you should actually be able to taste the vegetables.
Option B) Get affordable grub to-go.
Super markets tend to have hot delis with affordable foods that are far healthier than a typical fast food meal. I can get a full dinner for $5 at my nearest grocery store.
Also, look into local buffets. Typically, you can get a box "To-Go" priced according to the total weight of the food.
Stick with non-fried or breaded meats. Vegetables are light (both in the sense of how heavy they are and that they have like zero calories), so stock up on them.
==========================================================================
You Don't Have to Train an Hour a Day
Knock it off with the jogging.
It's boring, it sucks, it's ineffective, and did I mention it's boring?
You can read more about why I hate jogging here.
And you can see a list of 30 things that are more fun than jogging here.
Train your body in the way its meant to be trained (with full body movements that mimic activities you'd actually do in real life).
Squats, lunges, push-ups, pull-ups (inverted rows if you can't do those).
The staples might not be sexy, but they're staples for a reason (they work).
Here's a fun routine you can do in about 20 minutes per workout.
That's just an hour a week. Don't have the time? Please.
I guarantee you won't miss that stupid, boring jogging (fuck jogging!).
The best part? You can do this at home with zero equipment.
It's just you, your body, the floor, and gravity. Wee, fun!
Fun, Fast, Convenient: Your New Training Plan
Instructions:
Perform this workout 3 days per week, with 1 day of rest in between each session.
You could perform it Mon/Wed/Fri or Tues/Thurs/Sat, for example.
Follow this routine for at least 4-6 weeks before changing to a new exercise plan.
If you have any injuries or physical limitations, talk to your doctor before following this training plan.
Active Warm-Up
Instructions: Perform a single set of the number of repetitions indicated with no rest in between sets.
10 Jumping Jacks
10 Knee Kicks to Hands (each leg)
10 Ankle Circles (each direction, each ankle)
10 Shoulder Shrugs (each direction)
10 Arm Circles (each direction)
10 Jumping Jacks
Resistance Training
Instructions: Perform 1 set of each exercise for the time indicated.
Rest for 1 minute in between each exercise.
Record your results and aim to do more repetitions in your next workout.
Squats – as many as possible in 60 seconds
Push-Ups – as many as possible in 45 seconds
(on your knees, on a desk, or against a wall if you need to)
Body-weight rows – as many as possible in 30 seconds
Lunges – as many as possible in 30 seconds (each leg)
Metabolic Training (Kinda like cardio but more fun)
Instructions: Perform 1 set of each exercise for the time indicated.
Do not rest in between exercises.
Record your results and aim to do more repetitions in your next workout.
Invisible Jump Rope – as many as possible in 60 seconds
Run in Place – as fast as possible for 60 seconds
Jumping Jacks – as many as possible in 60 seconds
Flexibility/Cool Down
Instructions: Perform 1 set of each stretch. Hold each stretch for 20-30 seconds.
Breath deeply in a smooth, controlled manner during each stretch.
Bent-Over Stretch (reaching for ankles – focus on lower body)
Arms Stretched Over-head (reaching for sky – focus on back area)
Arms Stretched at Sides (reaching for the walls – focus on chest)
Arms Stretched Behind Back (hands clasped and reaching for ground – focus on separating shoulders)
Corpse Pose (lie on ground like a corpse at a crime scene. Breathe deeply and let tension leave body)
Click here to download a PDF copy of this Training Plan if you'd like to print it out!
The above training plan is a part of my e-book, The Busy Woman's Guide to Getting Fit, Hot, and Healthy.
Enter your e-mail below this post to get the full guide (for free!) and become a better version of yourself.
This training plan is also strikingly similar to the routines I use for my online coaching folks.
Click here to read more about my (awesome) coaching program and become an even better version of yourself.
(because I'll be in your corner the whole time, and my other rock star clients will cheer you on, and I take all of the guesswork out of it for you – word? Word!).
 ==========================================================================
In Summary…
Keep a time log to figure out where all your time is going.
Eliminate the biggest time bandits in your life.
Understand that you are the master of your time (and your life).
Make fitness fit your life (do NOT force an inconvenient fitness plan on your life).
Stop jogging, seriously, because it's boring and it sucks.
Have some friends who might find this helpful? Like and share plz!
What are your biggest time bandits? Tell me in the comments.
Did you like this blog? If so, I bet you'll love the book! Click here to claim your copy of the Amazon best-selling Busy Woman's Guide to Getting Fit, Fierce, and Fabulous.
Enter your best e-mail below to begin your Mind + Body Make-Over.
Related articles
Comments
comments
Powered by Facebook Comments